Dear Parishioners and Friends,
Greetings to you all!
The Gospel today talks about the beginning of Jesus's public ministry. He begins his ministry, inviting the people to repent from their past life and thus invites us to enter the light which he has brought into the world.
When Jesus began his ministry, he used the same words John the Baptist had used: "Repent, for the Kingdom of Heaven has come near."  "To repent" means that we make a complete change of direction in our lives. It is a daily effort to make conscious decisions to come closer to God. 
After his preaching, Jesus finds the first disciples for his work. They are not Pharisees or Scribes, not scholars or influential members of the community but ordinary fishermen. Jesus has never seen them before, but he invited them to become his disciples, and they responded immediately, leaving their nets, their boats, and their father to follow Jesus.
It is significant to note that the call takes place right in their working place. "Immediately they left their nets and followed Jesus." They put their total trust in Jesus, leaving behind their only means of livelihood, not knowing where it would all lead. From now on their life would consist not in worrying what they could get and keep but in service to their brothers and sisters, especially those in greatest need.
Usually, rabbinical students sought out their teachers and attached themselves to them. However, Jesus, as rabbi, took the initiative and called them, that is the reason Jesus says, "You did not choose me rather I chose you."
When Jesus chose them what did he see in them? He did not see their ability, but their availability. What Jesus taught His disciples was not a course of study, but a way of life to follow. Hence, He offered these men the opportunity to observe him from close at hand daily.
What Christ needs today is not our ability, but our availability. This is where my challenge comes. The challenge is that we need to appreciate our call to be Christ's disciples. Every one of us is called by God, both individually and collectively. The mission of preaching, teaching, and healing which Jesus began in Galilee is now the responsibility of the Church.
Our own unique vocation and relationship with the risen Lord is never separated from the Body of the universal Church. Be we monk, priest, married or single lay person, male or female, we are all called, and in this call, we become what God wants us to be. Amen
Fr. John Sebastian OMI
Rector & Parish Priest
The Weekend eBulletin
Click here to download the ebulletins for the Third Sunday in Ordinary Time, Year A.
Parish Morning Tea and Senior's Morning Tea
There is no Parish Morning Tea or Senior's Morning Tea in January. February dates will be advised soon.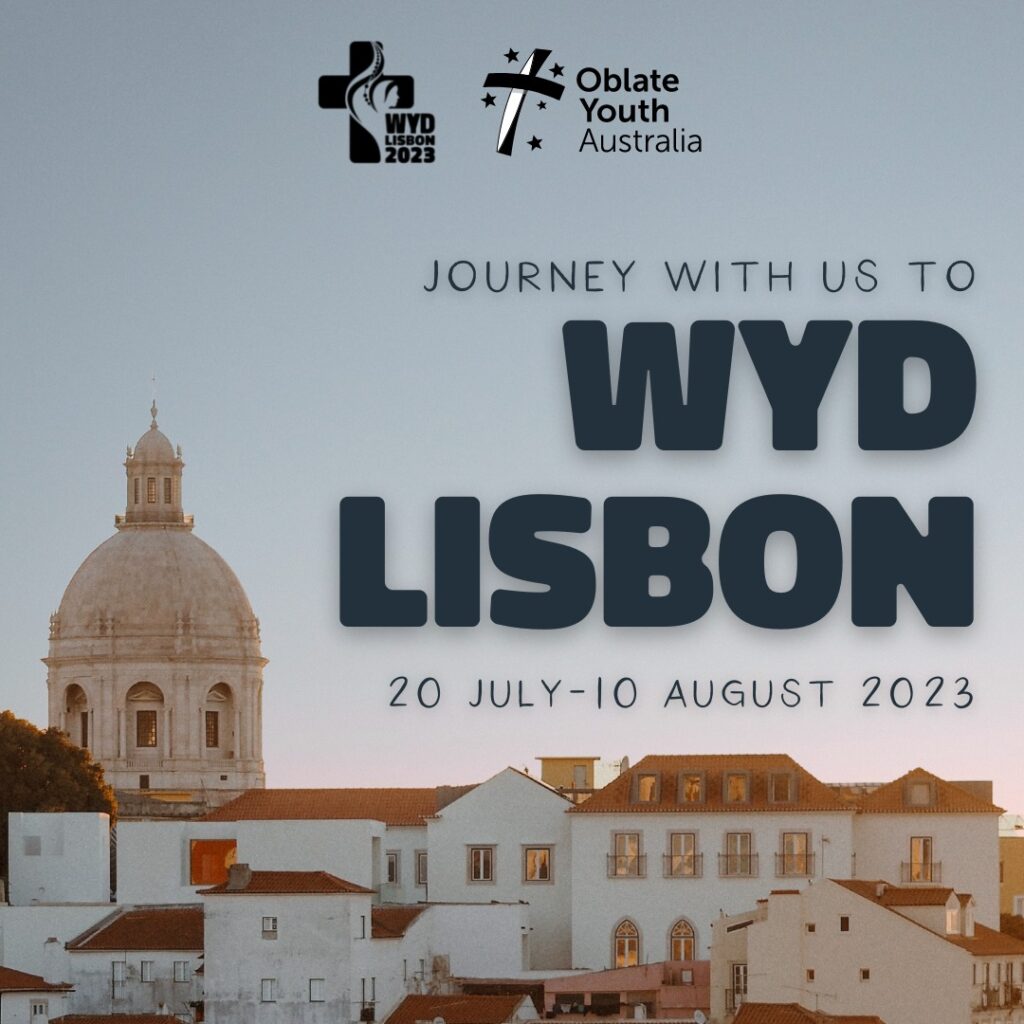 World Youth Day 2023
From 20th July to 10th August 2023 Oblate Youth Australia will be travelling to Lisbon, Portugal for the World Youth Day Pilgrimage. We are planning to join with Bishop Mark Edwards and the Wagga Diocese on pilgrimage to the Holy Land and Lisbon for WYD before finishing our trip in Aix-En-Provence – the birthplace of our founder St Eugene de Mazenod.
The indicative cost for WYD has been quoted at $9930 and this includes airfares, accommodation, registration for WYD, tours and most meals. Please note that this is only an indicative quote.
We are now taking expressions of interest for the pilgrimage, and you can find more information & a detailed itinerary by visiting: https://bit.ly/OYAWYD23
If you have questions or need more info please contact: Emma Rice erice@oblates.com.au 0422705230.
Caritas Ambassador
Parish Program Join us for a three-part series where we will dive deeper into the heart and stories of Project Compassion 2023.
The aim of this event is to ignite the desire in everyone to answer the call, join in, and reach out to our vulnerable brothers and sisters. In doing so, we unite to bring the love and mercy of God to all.
DATES: Tuesday, 17th January 2023, Tuesday, 31st January 2023, and Tuesday, 14th February 2023
TIME: 6:30PM to 8:00PM (light refreshments will be provided)
ADDRESS: 40A MARY STREET, HIGHGATE (entry to car parking is available from Harold Street)
Please contact Dcn Paul Reid or Shelby D'Souza on 9422 7925 or email perth@caritas.org.au for more information.
Planned Giving
The Planned Giving Programme is an important part of the Parish and assists us to maintain all aspects of the Basilica, Presbytery and Parish Administration Centre. To keep the Parish viable, we must maintain a target of 95% and above each week. Last week giving was 60%.
Please consider joining the Planned Giving Programme. For more information contact the Parish Office. Thank you!
EFT First Collection Details
BSB: 086 006
A/c No: 56187 5405
Reference: 1st Collection and your name
First Collection supports the Priests.
EFT Second Collection Details
BSB: 066 107
A/c No: 0080 0216
Reference: 2nd Collection and your name
Second Collection supports the Parish.
Regarding Masks
Masks are not mandatory; however, masks are encouraged where physical distancing is not possible if you have cold & flu symptoms, or you wish to safeguard yourself from the COVID-19 virus.
Safeguarding of our children in the Parish
The Archdiocesan Safeguarding Project was started in 2016 by Archbishop Timothy Costello SDB with the aim of providing a safe and secure environment for all its members, leaders and especially children and vulnerable adults. The parish of St Patrick's Basilica is committed to creating a safe parish. To read more please click here.