Our iconic tapestry, which hangs proudly above the Altar, was installed in 1994.
This beautiful piece of art was hand crafted in Galway, Ireland, and stretches across some 50 square metres.
Click on the different sections of the icon in the image below to learn more about what they symbolise.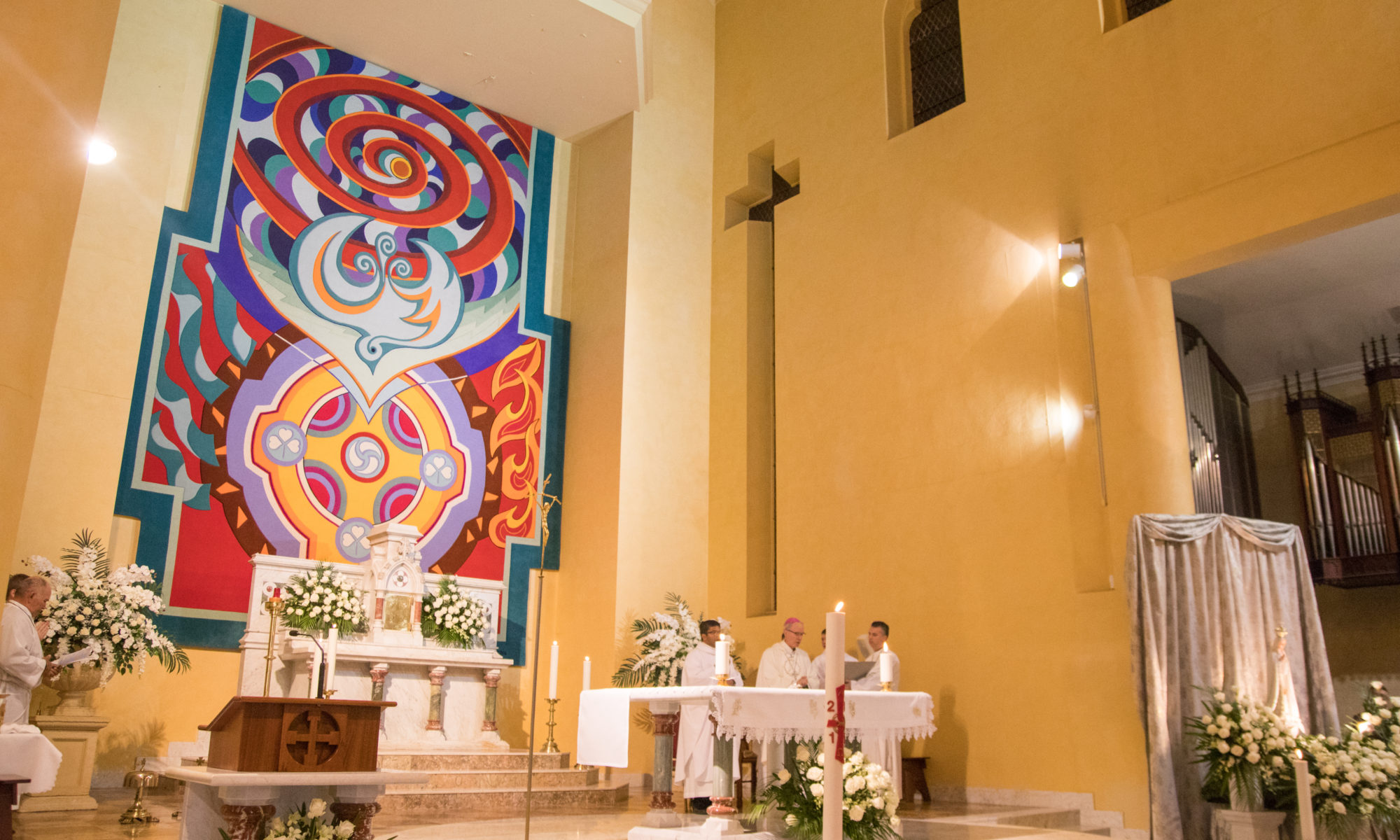 The Spiral
The elongated spiral in the tapestry is a symbol for God the Father. The spiral evokes power, energy, creation, immensity, and "the still center of the turning world."
The Holy Spirit
Out of the symbol for the Father comes the Holy Spirit, in bird-like shape. The Lord and Giver of Life enters through four natural elements: Air, Water, Fire and Earth. Air precedes the bird-like shape of the Spirit like waves. Water is on the left, fire is on the right, and earth surrounds the Celtic Cross.
The Celtic Cross
Christian legend has it that one day, St. Patrick was by the sea-shore discussing the nature of God with the Druids. They drew a circle in the sand, symbol of their Sun God, which Patrick understood very well from his days of captivity in Ireland. He then "baptised" their circular symbol by gently tracing the Cross of Christ into the circle. He was careful not to destroy their circle, but in a sense, fulfill it. The richness of colours evokes the splendour of the cosmic Christ and the hidden glory of his presence in the world. It also mediates themes of Transfiguration, Resurrection and Uncreated Light.
The Little Snail
It's presence at the bottom of the Icon alerts us to the love of nature and respect for the sacramental beauty of God's creation, which were strong and vibrant elements in the Celtic faith-vision. To remind us that the great transcendent God is also immanent in all creation, the great spiral at the top is echoed and counter-pointed at the bottom by the snail, macro to micro